Villa Rosa Podhale comfort at its best
ROOMS
We are able to accommodate 14 guests with the possibility of adding extra beds. Rooms have been furnished in a various styles to fit our clients' taste. What connects them is modern interior design, inspiring details and perfect decor. Villa has also air conditioned open-airbedroom situated in glazed rooftop of hexagonal tower. Residents of this amazing room of higher standard will have unique opportunity to sleep under the Podhale's starry sky. Beautiful mountains can be also admired by telescope installed in the bedroom.
CONVENIENCES
Our house for rent is a perfect place for comfortable leisure far from tumult of every day and crowded tourist attractions. Sauna and Jacuzzi situated on the grounds of premises for certain will provide you with many relaxation moments. Perfect location of the building makes it possible to enjoy the closeness of nature. Surrounded by greenery and murmuring water, villa has spacious observation deck with space designated for making bonfire. In the garden swing, sandbox and gas grill await.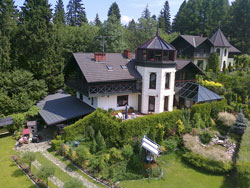 We took care of each detail so our guests can feel fully satisfied of their stay. Villa's guests have access to the internet, satellite TV and multimedia. On the premises there is also club room with pool table, cozy living room with fireplace and 70" TV and also fully equipped kitchen. You can leave your car in the garage or parking lot. At your disposal is every room in the house. By booking an accommodation in villa you are booking the whole premises, not only single room.
SPORTS ATTRACTIONS
Those who love active leisure can spend their free time in a very well equipped gym. Beside that there is a possibility of renting water sports equipment and snowmobiles in the rental service situated nearby. We are also organizing off road trips, which will undoubtedly deliver many positive thrills.
Supported by many years of experience we know exactly how to organize such expeditions to make them a true adventure. Each of them starts with driving lessons in a mountain conditions so that the participants are prepared for challenges that driving 4x4 car brings.
Sitting at the wheel, they will have to face variability of mountain trails. Crossing the river, boggy meadows or unpredictable mountain slopes are only some of tasks that await. However, off road is not only about facing the nature. It is also about checking your skills and getting new ones.
Integrative games (like driving with ball on the hood or "blind man") that we have prepared, require precision, accuracy and reflex. But most of all they are great fun. And it's not all of the attractions! Rallies are often ending with party in mountain hut, combined with bonfire, catering and music. Whereas how your trip will look like is up to you! Offer is adjusted to client's individual requirements.
DISCOUNTS
Guests of Villa Podhale can buy Tatrzańska Card in chosen tourist locations. Thanks to this card those who are visiting Podhale and Pieniny can enjoy many discounts and bonuses. They can count on significant discounts in restaurants, cinemas, sport and tourist facilities.
We have also prepared an interesting offer for those guests who will decide to stay longer in our house. Book Villa Podhale for at least 14 days and you will get 10% discount regardless of date of arrival.
SAFETY
Villa is situated in the area of confined, monitored housing estate. Thanks to this our guests can feel safe and are provided with privacy. They can enjoy their leisure moments in peace. Building has an alarm system and also fulfills European safety standards (5 Interhome stars). Motorized guests of villa can leave their cars in garage or on parking lot.
PRICE LIST
You can rent located in the mountains Villa Podhale for price that starts from 900 per night. Offer is prepared individually depending on number of guests, date and duration of your stay. Upon the arrival we are taking deposit of 1000 zł which is naturally refunded on the day of departure, if no damages has been done. We are adjusting payment to our clients. They can pay in cash or via bank transfer, depending on preferences.
Thanks to advance deposit of 20 % that is paid after booking you can have 100% assurance that in the chosen date villa will be waiting just for you.
To accommodation price we are charging sojourn tax which is1 zł (adult) or 50 gr (child) per day. Deciding for an accommodation in Villa Podhale means you are

booking the whole premises, not only single room.