Are you ready to set off?
If you like challenges, adrenaline or you just love good fun, this site is for you. Prepare yourself for a off road expedition with us!
You don't have to have off road vehicle or specialist equipment. Everything is waiting for you here already. Here you will meet our experienced instructors who will be watching over your safety during driving. They will also check 4x4 car's efficiency and remaining equipment.
Below we are presenting details of our offer.
Off road in our version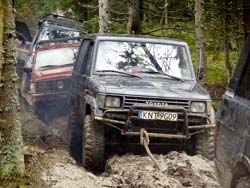 Each expedition that we organize starts with 4x4 car driving lessons in difficult mountain conditions. Thanks to that participants of rally will be prepared for everything they will encounter on the road. Sitting at the wheel of off road vehicle they will see that everything can happen. Together we will be crossing mountain streams, struggle with driving through boggy valleys and rocky slopes. Diversity of mountain trails gives the driver unique opportunity to learn new skills and prove oneself.
Challenge are also our integrative games (such as driving with the ball on the hood or "blind man"). They require from the expedition's participants patience, accuracy and reflex. Here not the fitness matters but being cunning and precise. And most of all, attitude towards good fun.And it for certain won't run out!
What after the rally
Yet, end of the route, is not the end of great fun. After covering the last stage of the off road rally we invite you all to mountain hut for a party with music playing. Such party is combined together with bonfire and catering. Offer is always adjusted to client's individual requirements.
Who is off road for?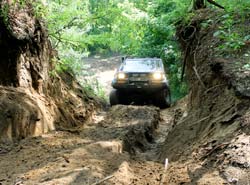 Everyone can participate in organized by us off road expeditions regardless of age, gender, skills and fitness. During 4x4 car rallies also weather doesn't matter. You can go on the road during every weather conditions.
Off road is also great idea for integrative trip for firm or group of friends. Such expedition is teaching teamwork. It checks leadership skills and cement relations as well.
Contact with us
You want to book a date, set the details of the expedition or just ask for the cost? Write or call us. We will answer all your questions regarding off road with pleasure. Below we present our phone number, e-mail and contact form.